1. Breathing exercise:
Control your breathing through counts that will rejuvenate your mind and that is what makes this pose of yoga for beautiful skin so popular.
This breathing exercise will help you control your mind and you won't get stressed out easily.
2. Shirshasana (Headstand):
Shirshasana is a bit difficult pose but is great if you want to maintain a long-lasting glow and healthy look in your face. Since you are standing on your head, blood starts flowing downwards, thereby improving blood circulation in your face. By reversing the flow of gravity, a headstand simulates a "face lift" by letting your skin hang in the opposite direction, which means getting rid of wrinkles. The inverted position of a headstand also flushes fresh nutrients and oxygen to the face, creating a glowing effect on the skin.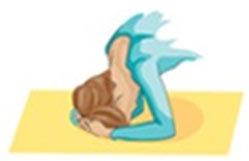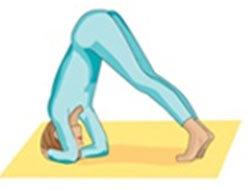 3. Halasana (Plough pose):
Refer to the below picture for a clear step by step understanding.
This is one of the wonderful yoga asanas for glowing skin!
4. Dhanurasana (Bow pose):
In this asana, your body should pose like a bow.
5. Bharadvajasana (Twisted seated pose):
This asana of yoga for

fair

and glowing skin is great for anti-aging.
6. Sharvangasana (Shoulder stand):
This asana involves the whole body, hence the name Sharvanga.
7. Surya Namaskar (Sun Salutation):
The mother of all yoga
asanas
.
Surya Namaskar
involves 12 postures. (Link back to surya namaskar)
This yoga poses de-stresses, removes toxins and is a great relaxation exercise. So you can obviously expect your skin to glow if you practice this regularly.
8. Shavasana (Corpse pose):
You'll feel all your stress and tensions have disappeared. Technically Shavasana should be practiced after having done all yoga asanas. It is like a concluding asana for your yoga session. The time of Shavasana should be 15-20 minute
Practice yoga, be happy and feel beautiful.